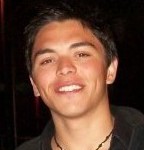 If you see this person, use every measure of self-defense possible. He has drugged and raped at least three women on Saint Louis University campus. The University only cares to victim blame. We cannot trust in or rely on these systems. We must rely on each other instead.
After two different women brought charges against Joshua Pucheta that he had drugged and raped them, (a third came forward anonymously, but did not bring charges) the Student Conduct Board at Saint Louis University finally found him guilty of rape. As a punishment, he was suspended from school for one semester (the Fall 2012 Semester). His record will not reflect his rape conviction and he will graduate and go on in the world to rape more women with impunity.
BE ON THE LOOKOUT: He is a senior at Saint Louis University and will be returning next year for one semester before he walks the streets as a young professional. He works at the Fabulous Fox Theatre located at 527 North Grand Blvd. He is a member of the Sigma Chi-Theta Iota fraternity and resides at 3815 Forest Park Ave. If you see him, be sure to point him out to your friends and let it be known he is a rapist.
WATCH YOUR BACK.
TELL YOUR FRIENDS.